"Our services are available to all members of the public regardless of race, gender or sexual orientation."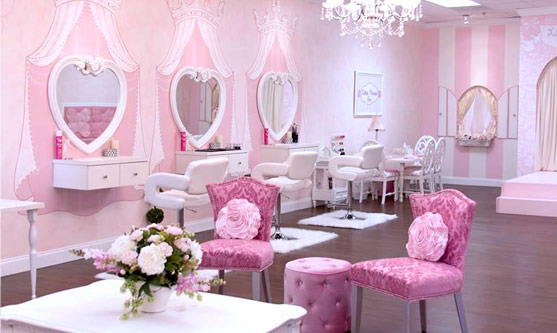 Kids Spa & Princess Party Place in Round Rock
Making Princesses' Dreams Come True!
Little Princess Spa® is the leading kids spa and princess birthday party place in Round Rock. Our kid's spa offers spa services (mini mani, mini pedi, hairdo, makeup, mini facial, and mini relaxation), birthday parties, events, summer camp, and so much more for your little girl.
Little Princess Spa® in Round Rock is dedicated to every true princess who ever dreamed sneakers were glass slippers and to girls who believe it's better to twirl than walk, sing than talk, and that everything goes better with sparkles.
For now she wants her own little sprinkling of fairy dust, and the glamorous attention every real princess deserves
You supply the dream and we'll supply the style and magic to help you make her fairy-tale dreams come true. Fun, luxurious, professional, knowledgeable, friendly, sparkling clean, and aromatic are the hallmarks of Little Princess Spa®.
Custom Party Packages!
We have the right party package for any princess (the right price and custom add-ons), including a princess themed party package, unicorn themed party package, doll themed party package, tea party themed party package, pajama themed party package, art & craft themed party package, glow in the dark themed party package and so much more! Call us to book your birthday party today: 512-508-4495.
Why Choose Us As Your Kid's Birthday Party Place?
They're only little once! Give your little princess something that feels like magic on their special day. A party at Little Princess Spa® in Round Rock, Texas can do just that. Imagine their delight when they get to spend their birthday at our magic filled party venue with their closest friends!
Making dreams come true is the cornerstone of our business. We have a reputation for providing the best princess birthday parties in Round Rock. But don't take our word for it, we invite you to read our online reviews. We have a 5-star reputation on Google, Facebook, and Yelp.
Round Rock Kids Birthday Party Places Near Me:
Our kids party place is located in Round Rock at (1201 S Interstate 35 #103, Round Rock, Texas 78664), just a short drive from Austin, Cedar Park, Georgetown, Pflugerville, Lakeway, Texas, and other surrounding Greater Austin areas.
Where Girls Feel Like Royalty
Party Packages
Let us provide your little princess with the most luxurious and unforgettable royal party she's ever had. Book your Princess birthday party today at Little Princess Spa® and let the fun begin.
Outstanding Staff
Little Princess Spa® staff appears happy, healthy, energetic, and trendy in appearance. They are friendly, efficient and well-trained. They enjoy their jobs and their clients. This attitude radiates through the spa making each and every visit to Little Princess Spa® a pleasant memory.
We Care
Little Princess Spa® affects young girls positively. It builds their self-esteem as well as awareness and remains with them for a lifetime.