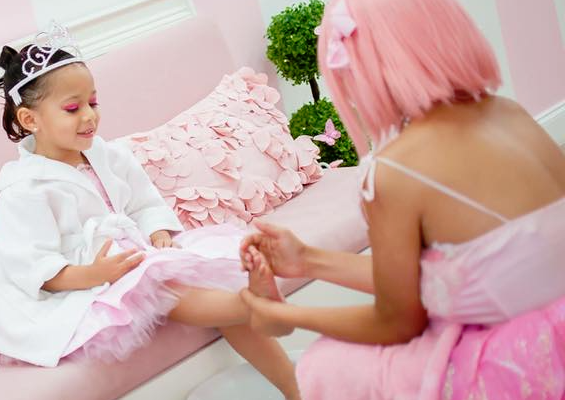 Royal Treatment
A cozy robe to wear during your spa services
Tiara for the princess to use
Refreshing pink lemonade in a champagne flute
Glitzy Mini Mani with nail sticker
Glitzy Mini Pedi
Glowing Mini Facial
Mini Relaxation
Glittery Hairdo
Glamorous Makeup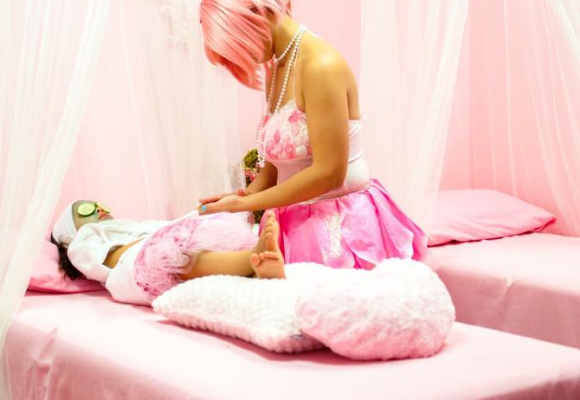 Diva Treatment
A cozy robe to wear during your spa services
Tiara for the princess to use
Refreshing pink lemonade in a champagne flute
Glitzy Mini Mani with nail sticker
Glitzy Mini Pedi
Glowing Mini Facial
Glittery Hairdo
Glamorous Makeup
Cute Treatment
A cozy robe to wear during your spa services
Tiara for the princess to use
Refreshing pink lemonade in a champagne flute
Glitzy Mini Mani with nail stick
Glitzy Mini Pedi
Glowing Mini Facial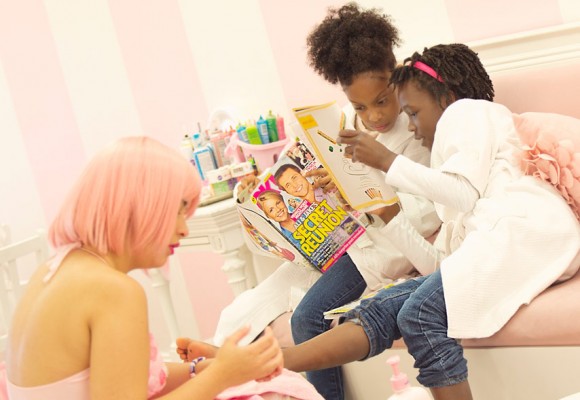 BFF Treatment
A cozy robe to wear during your spa services
Tiara for the princesses to use
Refreshing pink lemonade in a champagne flute for the BBF's
Glitzy Mini Mani with nail sticker
Glitzy Mini Pedi
Glowing Mini Facial OR Mini Relaxation
Make your own BFF bracelet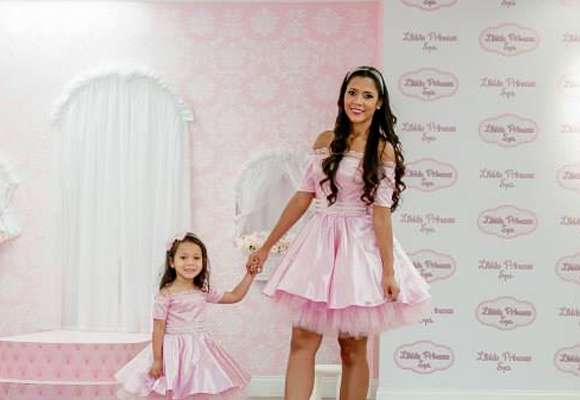 Mommy and Me
Robe for mommy and daughter to use
Refreshing pink lemonade in a champagne flute for mommy and daughter
Mini Mani, Mini Pedi and Mini Facial for the girly girl and mommy. Mani + Pedi is wash, scrub, lotion and polish only. We do not remove cuticles. Not done by a cosmetologist. For entertainment only.
This package can be used for Grandma and Me as well, for an additional girly girl you will pay $45 for a mini mani, mini pedi and facial
(Available only on certain days)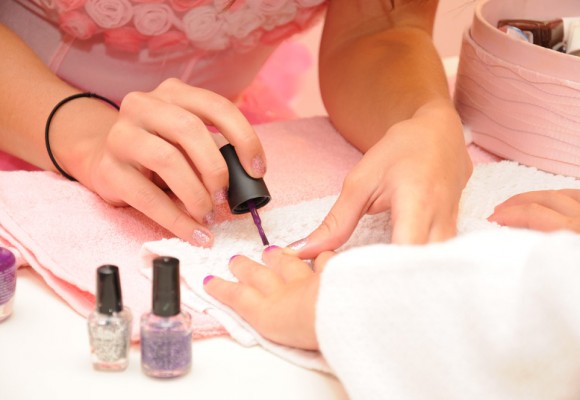 Glitzy Mini Mani
Soak your hands in our heart shaped bowl in warm water with fairy sparkles, hand relaxation, mani with a choice of any color nail polish and 1 nail design of your choice.
Spa for Kids
Why is Little Princess Spa the best spa for kids in the Hallandale Beach Area?
There are basically two main reasons why Little Princess Spa is the best is spa for kids:
1. Customer service: Little Princess Spa is the best birthday party venue for little girls in Hallandale Beach, Florida. We offer the best party services, and party themes of the industry. Our staff are simply the most professionals, and our customer service is the best.
2. Customer satisfaction:  Our main priority is to make our customers happy. We take pride in everything we do, and for this reason each and every day we strive to be the best in the industry, furthermore always maintaining our higher level service to our customers.
We are proud to say that our spa for kids is the best in the U.S. Our great service combined with the loyal support of our customers definitely help us to be the best.
Is your daughter birthday date coming up? – Give us a call!
We'd love to be part of your next birthday party project.
So, if you are seeking for a birthday party place that has all the necessary features that'll make your little princess feel loved and special, but haven't found one yet. We have news for you. The Little Princess Spa has it all.
We are confident that at the Little Princess Spa in Hallandale Beach you'll find the perfect birthday party package for your little girl's party. We promise not to break your bank!
Our spa for kids has everything a little princess could ask for. From skin care to hair care services. Our variety of services include everything a birthday girl
deserves for her birthday.
Spa Treatments: Royal treatment, Diva treatment, Princess Treatment, Cute treatment, BFF treatment and Mommy & me. Our spa for kids also offers the "Single Spa Services which includes: Glitzy mini mani, Glitzy mini pedi.
Skin Care Treatments: Glamorous make-up, Glowing mini facial, and the Mini relaxation. All the little girls gets crazy about these treatments. Parents, if you'd love to make your little girl to feel special, and build memories that'll last a life time, you got to book a spa day treatment for her.
Hair Care: We're confident that your little girl will fall in love with all the Hair Care that gets done here at our spa for kids. We're sure she'll love the hair dos, color hair, feather, hair crystals and the hair tinsel. Come have a day of fun with us. Book an appointment at 954-283-9560